It can be one of the smallest, but it is one of the mightiest countries in the Persian Gulf, Qatar. It is one of the wealthiest countries in the world and full of many exciting things to see and do. Doha, the capital city, has undergone major transformations in both aesthetics and function. It is home to some of the best hotels in the world but today we will focus in the top luxury hotels in Doha.
World-class architects, including I.M. Pei, Renzo Piano and others, have made the city their canvas for some of the most amazing architecture you will ever see. And by no surprise, Doha has some of the most luxurious beautiful hotels in the world! Doha's hotels have a unique design that brings the old and modern architecture together. Upon entering the most luxurious hotels in Doha, you will instantly be immersed in Qatari culture.
Doha Hotels and Resorts are one of the top holiday destinations for the high-end society from all around the world! Today we are going to take you through the top luxury hotels in Doha and provide every information you may need. By the end of this list, we're guessing you would be booking your next holiday in Doha!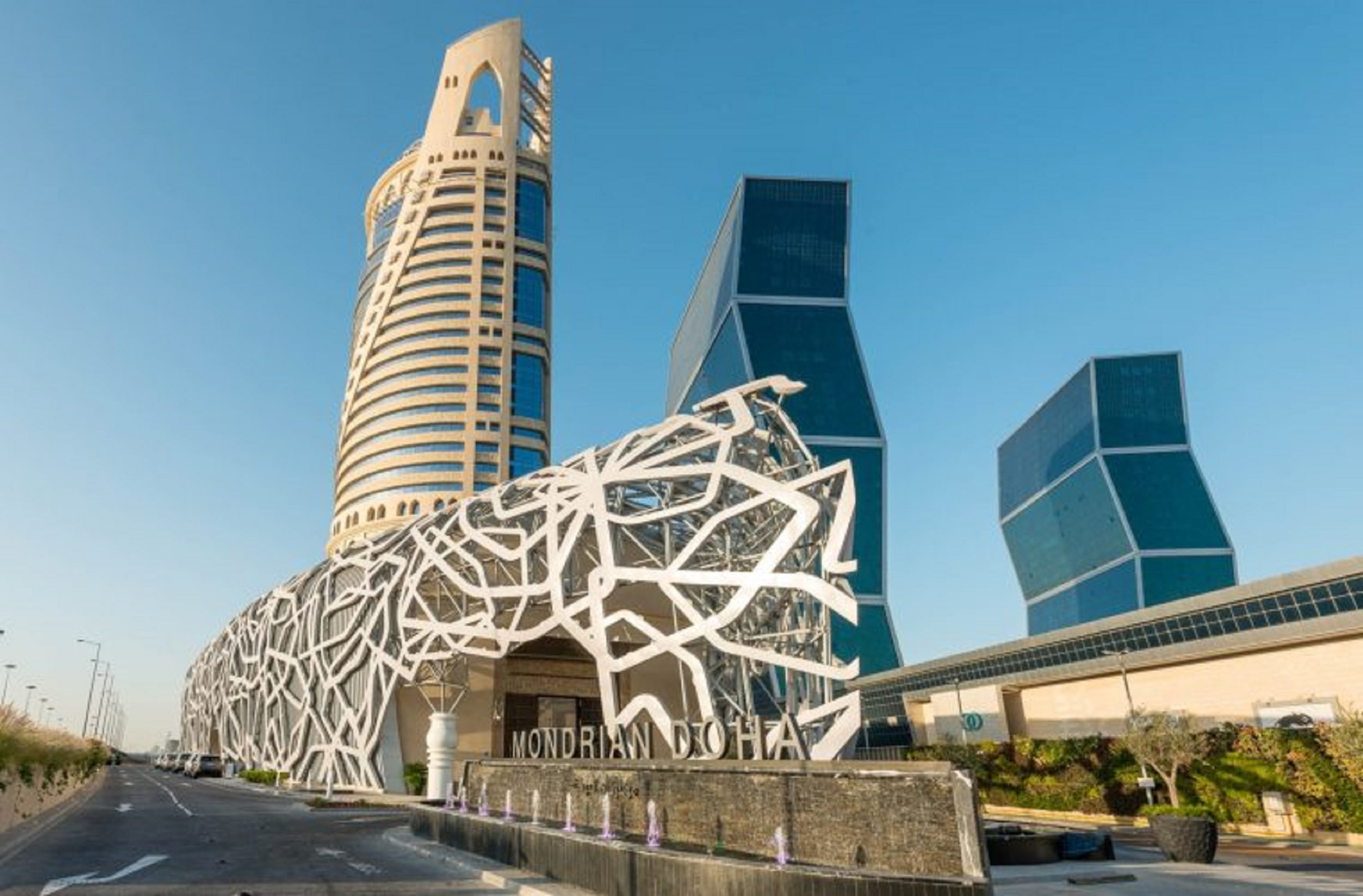 Situated in the West Bay Lagoon area, the Mondrian Doha offers a modern take on The Arabian Nights. Mondrian Doha brings the intensity, energy, and cool California vibe of the original Mondrian in Los Angeles to the West Bay neighbourhood of Qatar's capital. Designed in collaboration with world-renowned Dutch designer, Marcel Wanders, he envisioned Mondrian Doha as an oasis of indulgence and fantasy— a place that nods to the brand's provocative spirit as well as the rich traditions of local culture.
Mondrian Doha was created with a mission to evoke an environment of love, filled with passion, and to make guests' most exciting dreams come true. Especially the Penthouse and the Sky House rooms offer a paradise feeling for the special guests who decide to book these suites!
The Sky House at Mondrian Doha offers a living room, two king bedrooms, one twin bedroom, a dining room, an entertainment room, a butler/chef/maid room on the ground floor, and a lift connecting the two floors. The desert-inspired, sculptured carpet, hidden falcon designs in the dining room wallpaper pattern, sophisticated artwork on the ceiling, and two curved Dewan Majilis sofas to provide a unique social setting for guests.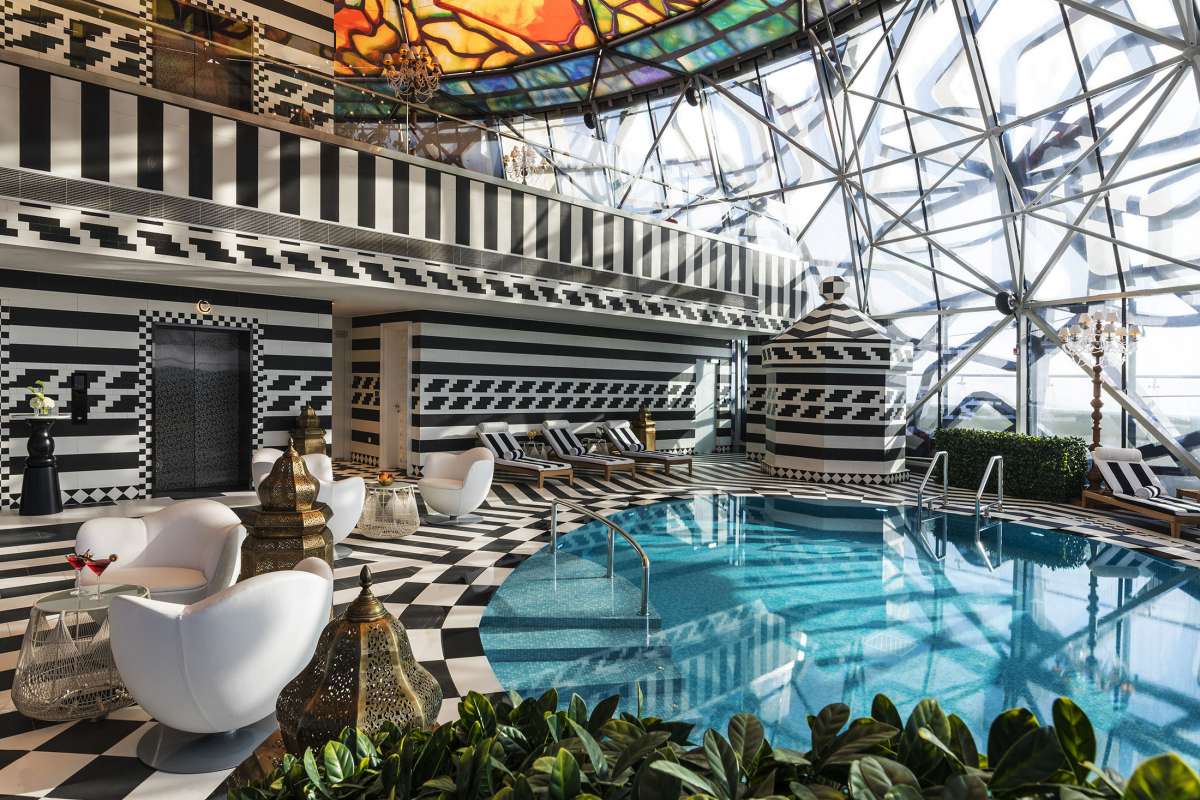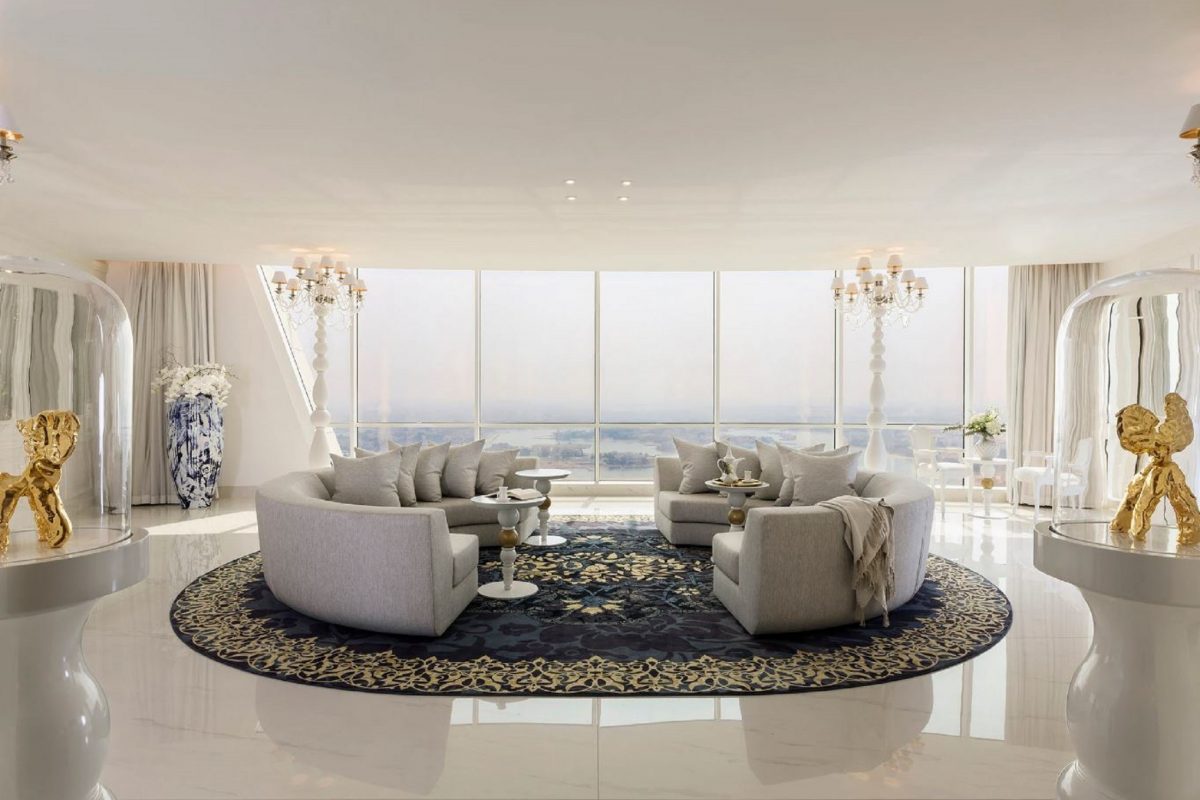 While the Penthouse Suite, located on the 23rd floor, takes you to the old Arabic tales with an authentic approach to modern-day design. This two-story Penthouse offers incredible attention to detail with its locally inspired features within the room, such as a sculptured carpet that is intended to reflect the Qatari desert, falcon designs within the walls and custom furniture including Dewan Majilis sofas, dark wooden foyer doors and a "cabinet of information" that offers details on the fascinating history and culture of the region.
Mondrian Doha Hotel is definitely one of the top luxury hotels in Doha which offers you the opportunity to discover modern Qatari hospitality.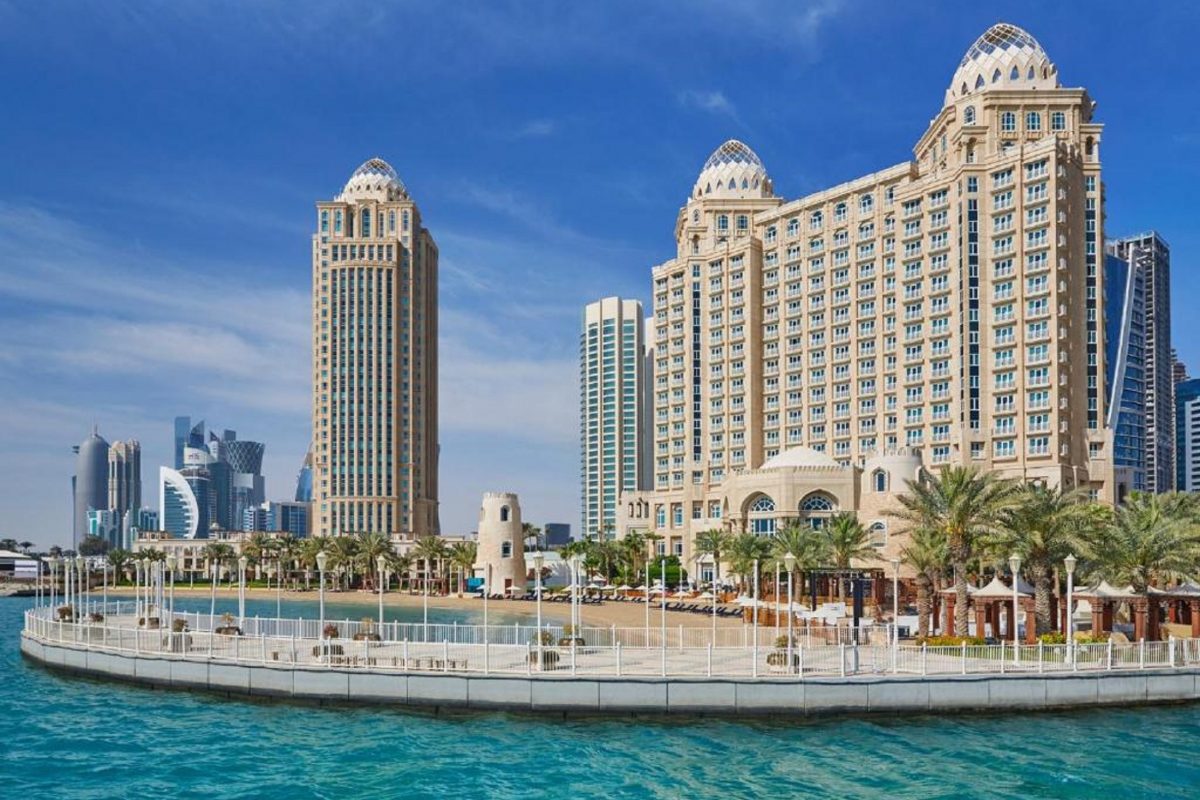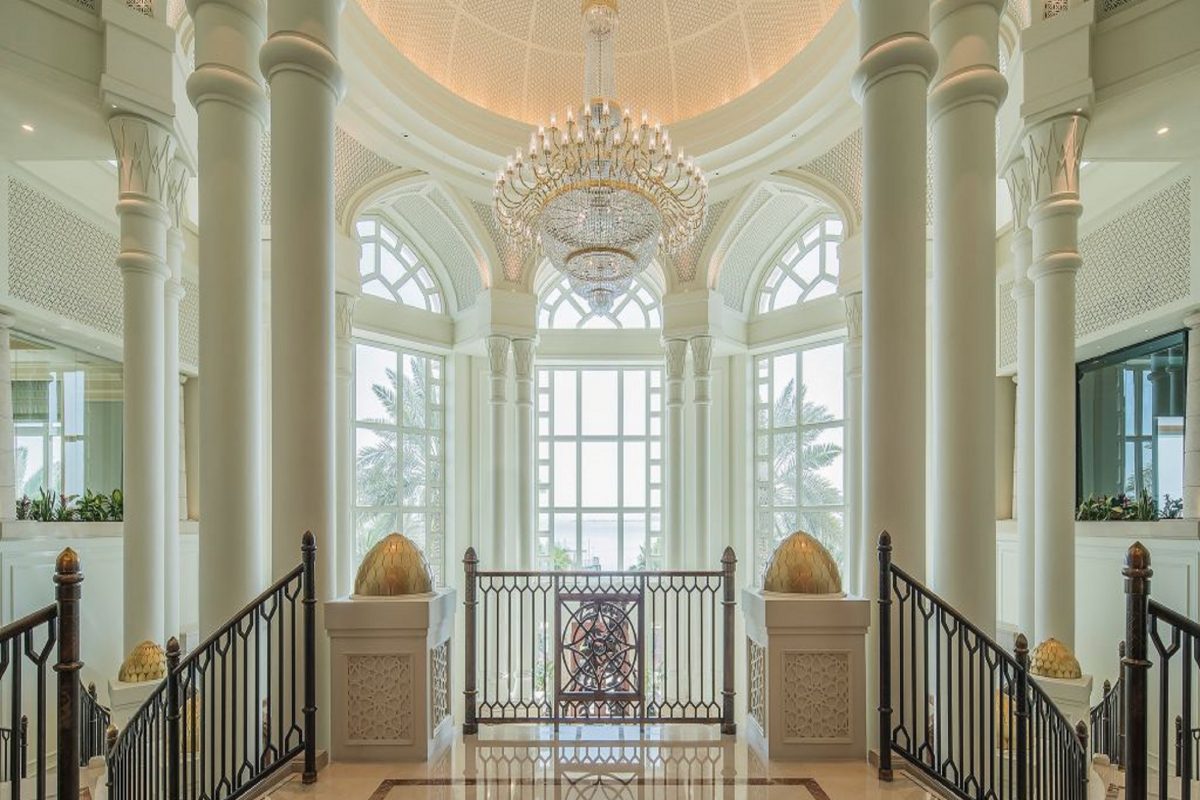 Next one on the list is Four Seasons Hotel in Doha. A stay at Four Seasons Hotel Doha places you in the heart of Doha, convenient to City Centre Doha and Corniche. This 5-star hotel is within close proximity of Qatar SC Stadium and Khalifa International Tennis Complex. A 5-star luxury hotel located in Diplomatic Area, a great place to bask in the sun with a private beach, beach cabanas and sunlounges. The luxury hotel sits on warm waters of the Arabian Gulf with its own private beach at the end of the Corniche. You can treat yourself to aromatherapy, reflexology or a sports massage at The Spa & Wellness Centre, the on-site spa.
To properly enjoy the luxury experience at Four Seasons Hotel Doha, the best options to choose from are the Two-Bedroom Suite and the Presidential Suite. Befitting heads of state and VIPs, this magnificent Presidential suite wraps around two sides of the tower for truly panoramic views. You can entertain in the majiles-style living room, including a grand piano and a dining table for ten.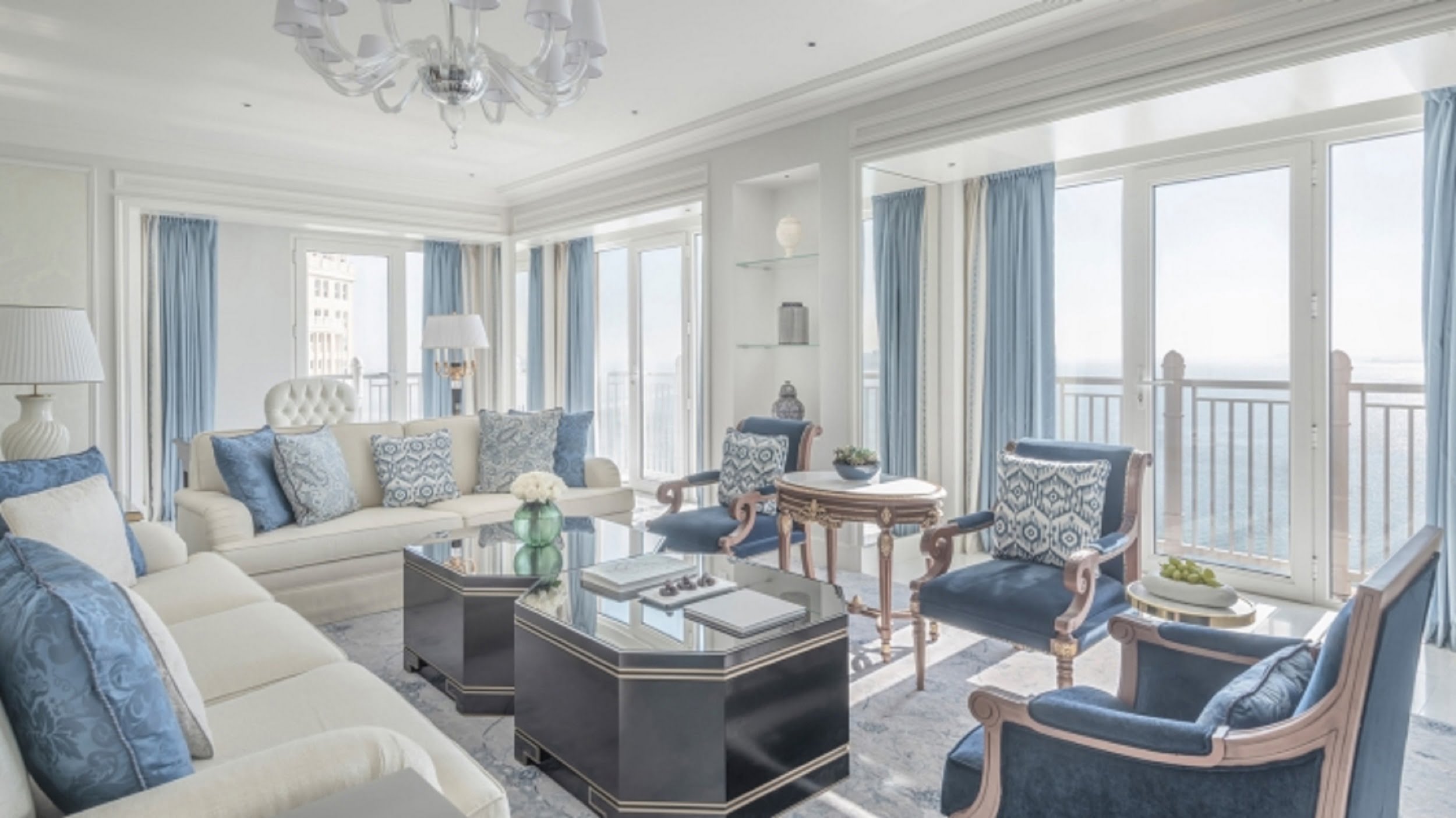 At the Two-Bedroom Suite you can experience Doha on a grand scale through the two-level penthouse with panoramic views of the city and sea. The majestic living and dining room opens to a large terrace – perfect for outdoor entertaining. Upstairs, two bedrooms offer privacy and luxury. With a full pantry and a dining room for six, the suite is perfect for a gathering of loved ones.
Four Seasons Hotel Doha is a traveller's haven fashioned to the finest international standards. Four Seasons Hotel Doha is able to host a wide range of events, from small meetings to large conferences and society weddings – for groups of 15 to 700 people.
Indulging in a luxurious supper in New York is a fantastic thing to do in NYC with your lover. You can quickly think about bringing them here for an anniversary or birthday. Daniel is known to offer premium quality food and its excellent quality is what makes it the most preferred restaurant amongst its premium customers.
Sharq Village & Spa, a Ritz-Carlton Hotel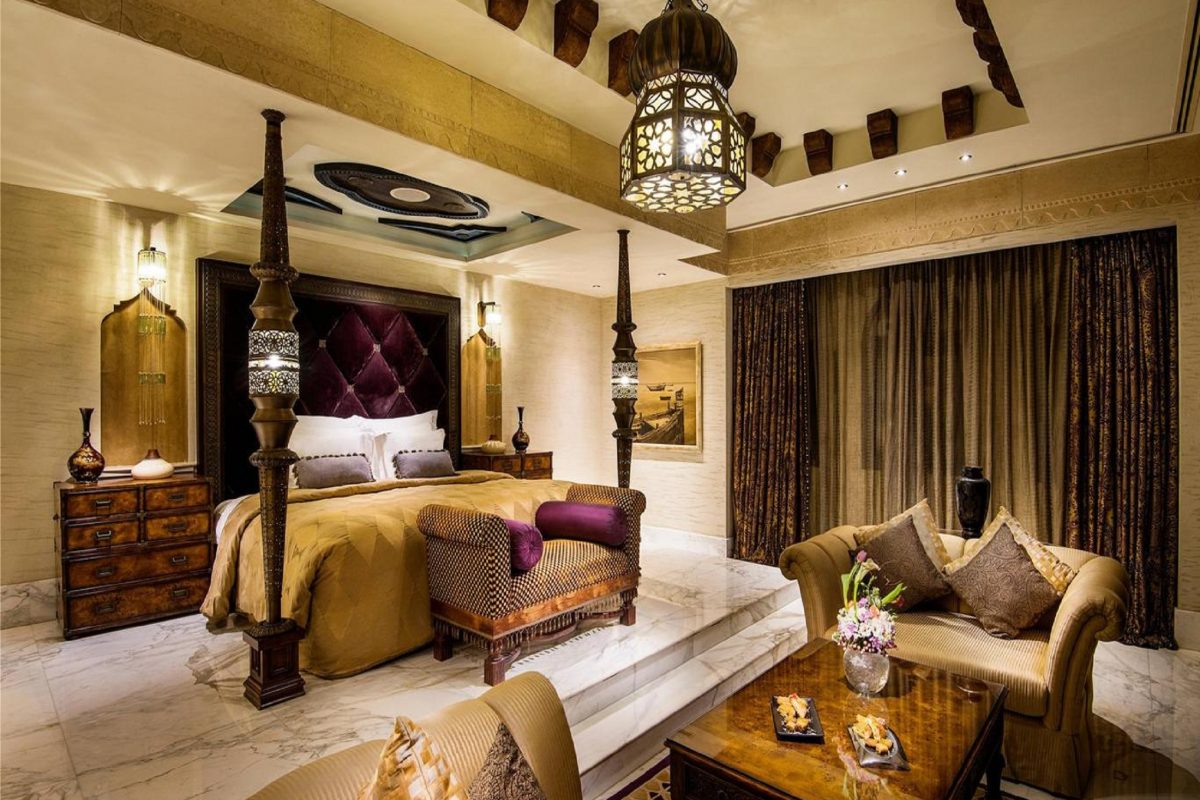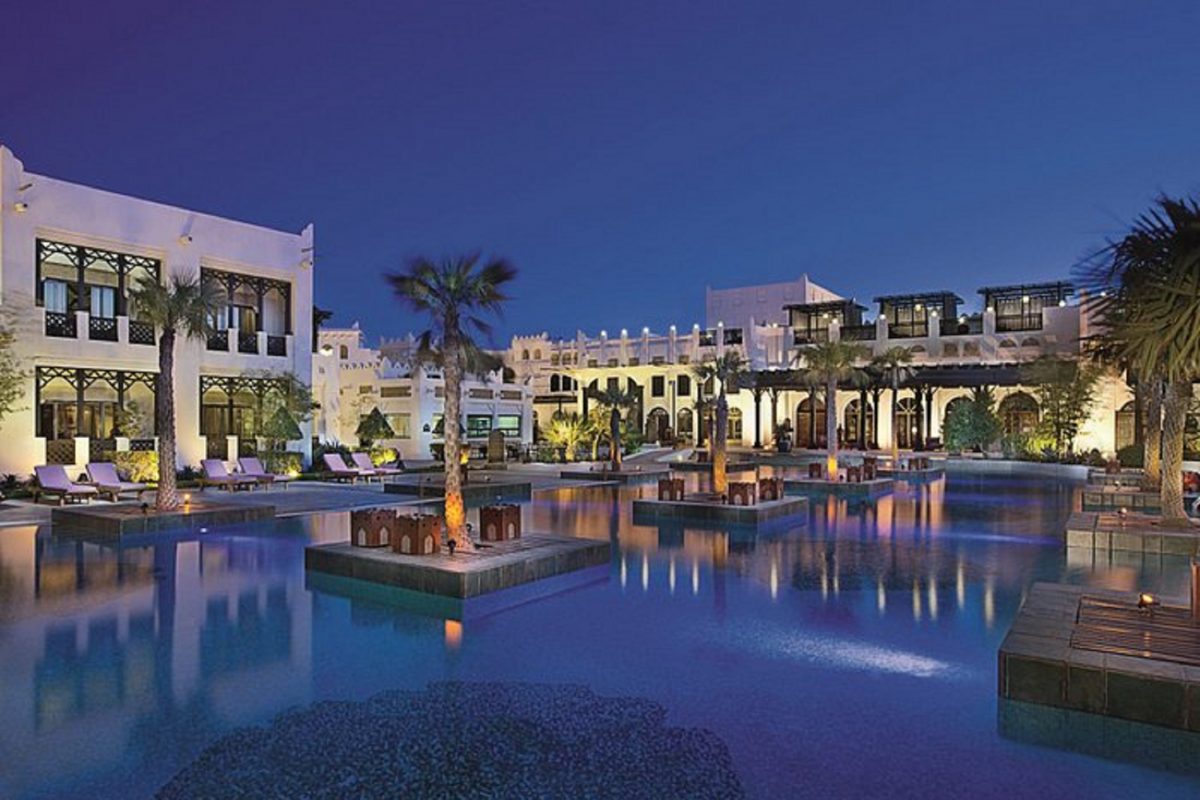 Set along Qatar's golden coastline, Sharq Village & Spa, this secluded paradise offers a private beach, luxury villas and award-winning dining. Traditional, romantic, and secluded. At The Ritz-Carlton Sharq Village, Doha – you will feel like royalty. This beach resort has been carefully designed to emulate an elegantly marbled Sheikh's palace. You will be able to admire Doha's natural beauty from the balcony of your luxury room or suite and unwind at the infinity pool and private beach before letting go at the exceptional spa. The Doha skyline can be seen in the distance, a visual reminder that hotel guests enjoy a world of their own, one of traditional elegance and luxury.
Located a few steps away from the National Museum of Qatar and Souq Waqif, this Ritz-Carlton resort in Doha is one of the top luxury hotels in Doha! Resembling a Sheikh's palace, the experience it offers can be nothing less than royalty! And hence why their Royal Villa and Royal Suite are the only options you should consider if you decide to book your holidays in one of the top luxury hotels in Doha!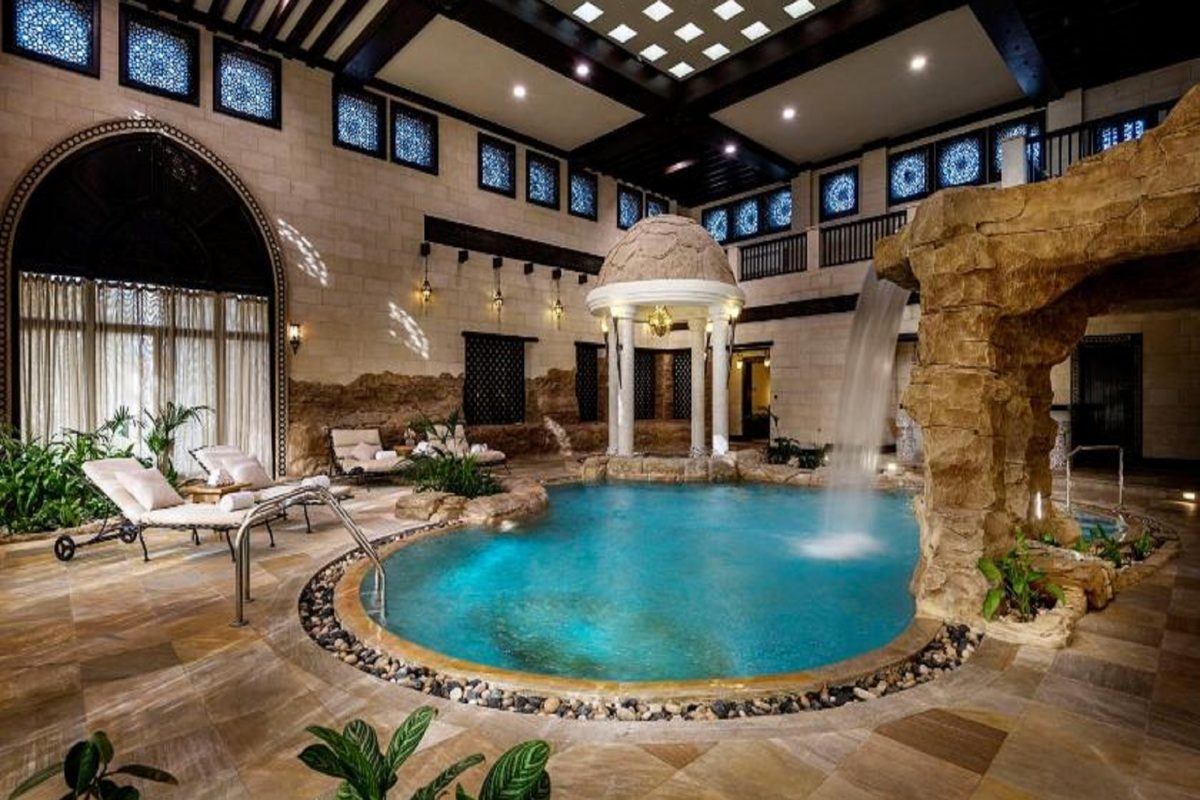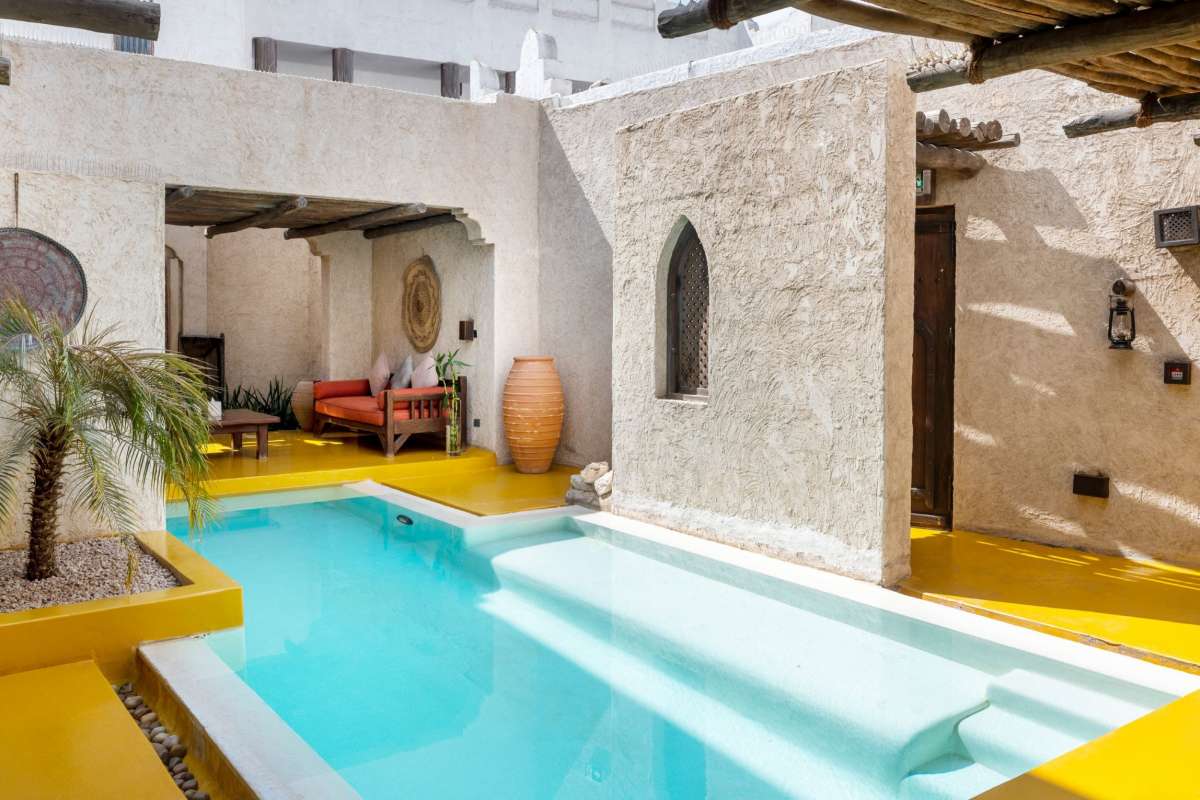 Decorated after a Sheikh's palace, the spacious Royal Villa offers over 2,000 sqm of luxury space and is divided into 2 distinct wings. One wing includes the suites, while the other has seating areas, a study and a dining room. Guests booking the Royal Suite can enjoy their own private pool and butler service. The Royal Villa includes also an indoor pool, private gym, spacious balcony and a chef's kitchen.
The Royal Suite at The Ritz-Carlton Sharq Village, Doha includes two bedrooms and bathrooms, a dining room, living room, bay-view veranda and powder room. It is a perfect option to properly enjoy the Doha royalty treatment!
Marsa Malaz Kempinski, The Pearl, Doha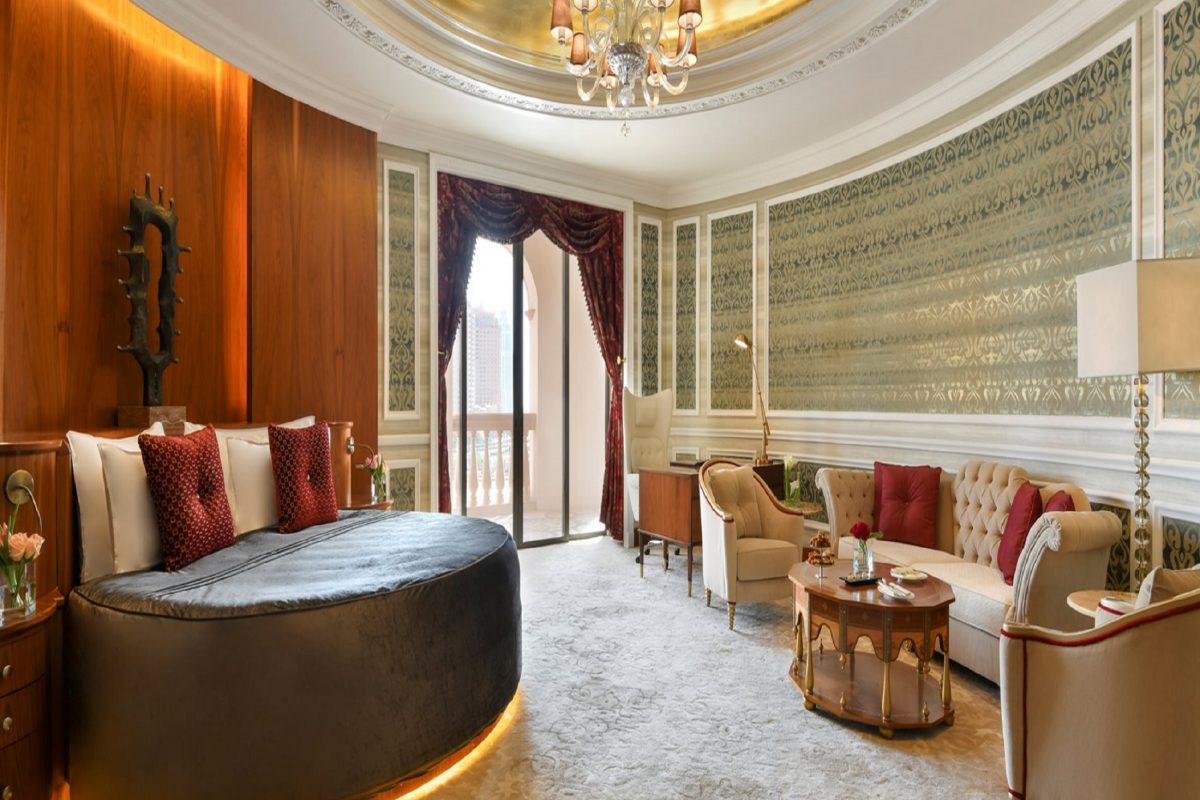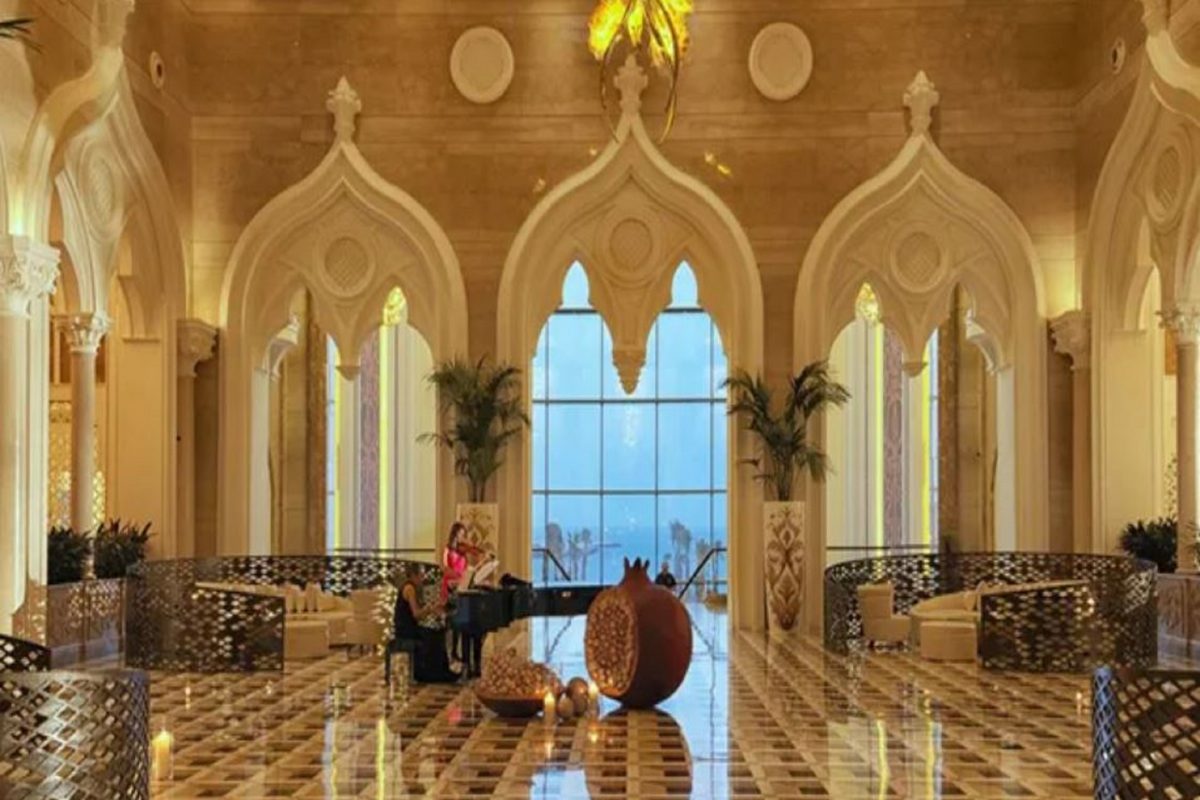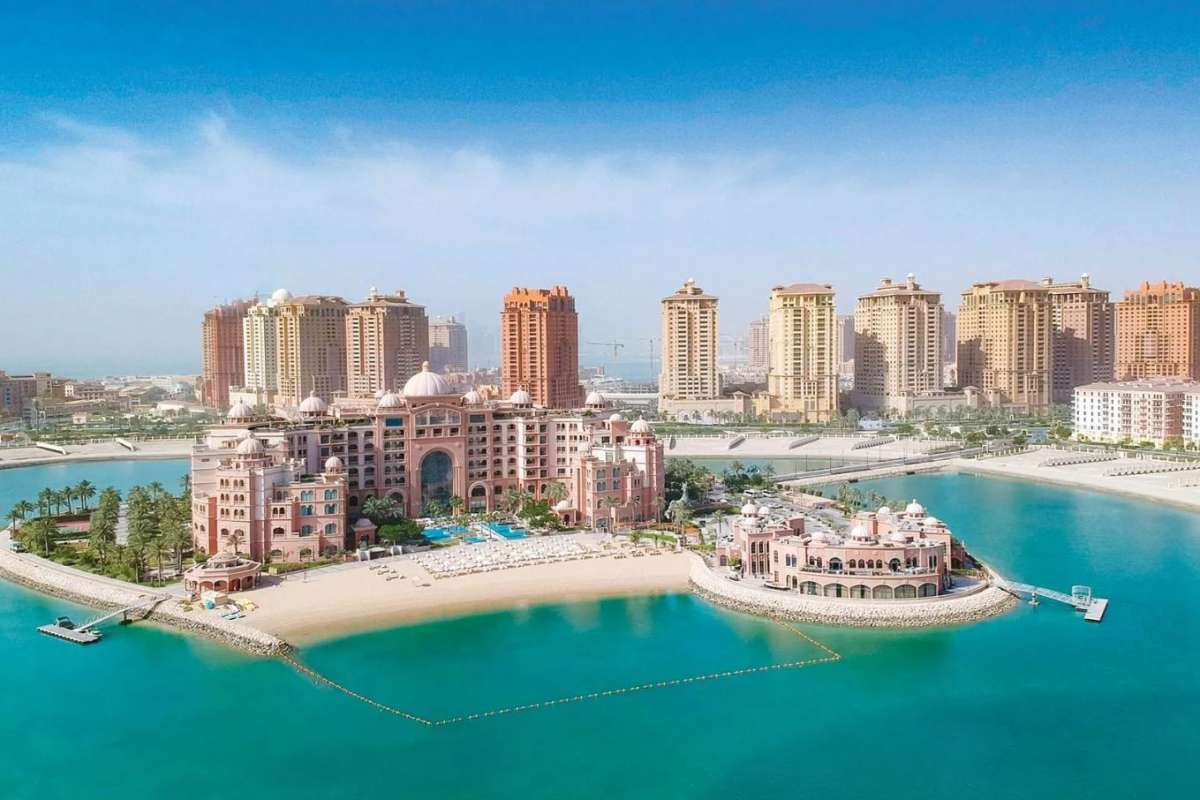 Marsa Malaz Kempinski is located on The Pearl-Qatar, which is an iconic, man-made island on the coast of Doha. It overlooks the Arabian Gulf and it's just steps away from the cosmopolitan Porto Arabia precinct. This area is known for its waterfront restaurants and upscale retail outlets. No wonder the Marsa Malaz Kempinski is considered one of the top luxury hotels in Doha, and even the world!
When staying here, you get to experience rich Arabic traditions combined with unmistakable European flair. This five-star luxury beach resort unlocks the best of the captivating city of Doha. The waterfront destination features meeting facilities including Palazzo Ballroom, the Venezia Ballroom and six meeting rooms with a separate entrance. The resort offers a Kids Club, watersport activities and a health club. And there are 11 on-site restaurants offering a wide range of local and international dishes as well as a world class selection of drinks.
One of our favourite features of this luxury hotel is their Royal Suite! As part of the suite, you get a chauffeur who will drive you to the hotel from anywhere in the city. The suite has two king bedrooms, a living room with a dining area and a breath-taking open-air terrace featuring a whirlpool bath. A butler will take care of you during your stay. The living areas have superb sea views and seamless technology, luxurious handcrafted furniture, and beautiful fabrics. Bulgari amenities are included to elevate your experience.
Another option for you is the Presidential Suite which features a private pool and chic loungers. Also the Presidential Suite can connect to Grand Deluxe and Deluxe rooms for additional accommodation.
Marsa Malaz Kempinski offers you the opportunity to relish in the prestige of a five-star luxury seaside and spa resort; ideally located on a secluded man-made island within the Pearl – Doha.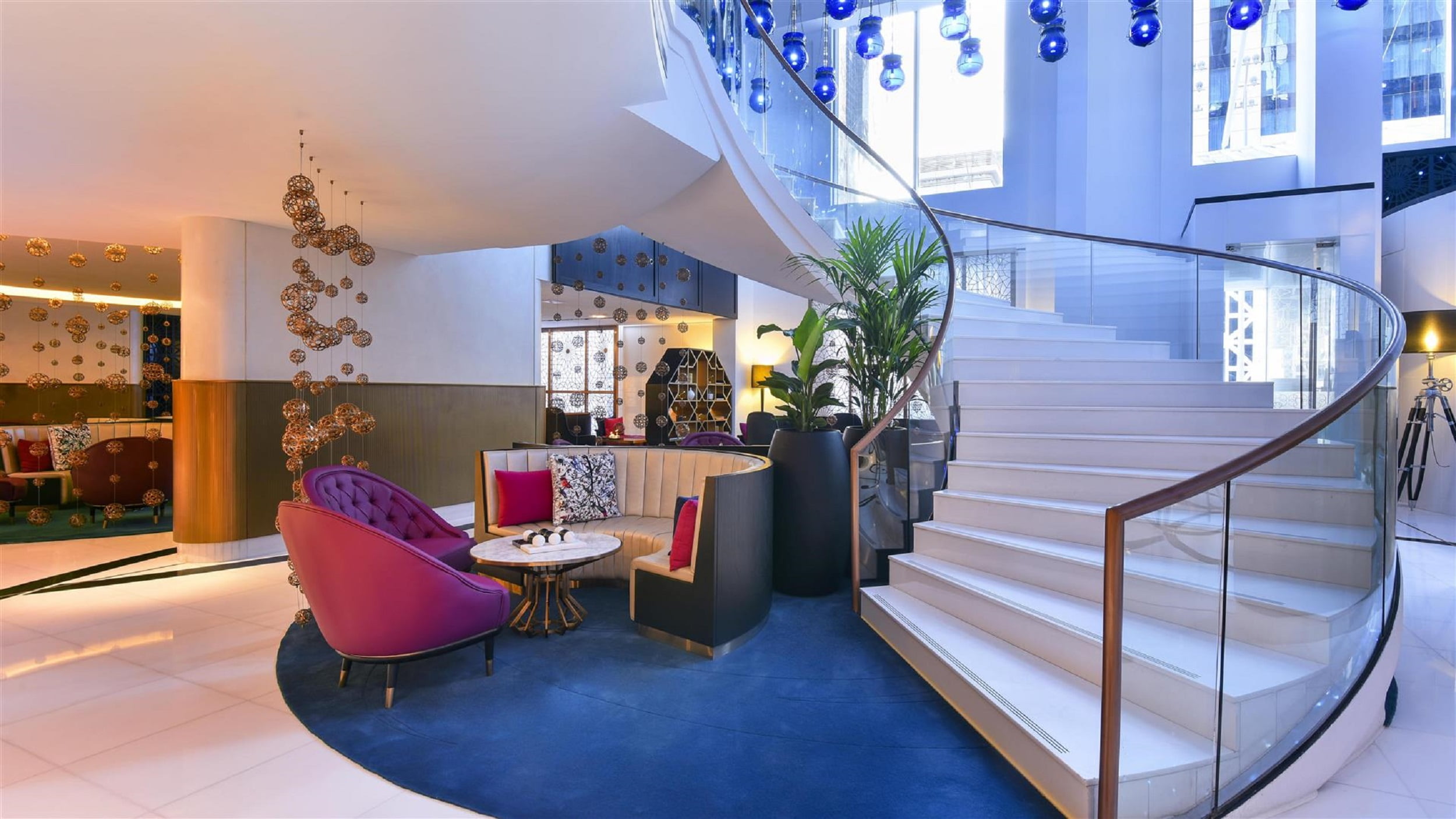 W Hotels are no stranger to the luxurious hospitality all around the world. The hotel sets the standard for modern luxury accommodation in the city, offering residents all the benefits and amenities that come with being connected to a W. The first lifestyle hotel in Qatar, W Doha brings all the energy of New York City to vibrant Doha. Located in the heart of Doha's West Bay, each hotel room is filled with iconic design, tech savvy amenities and a stylish ambiance. The design of W Doha is modern and contemporary with an infusion of the design elements indigenous to the region, including lighting, colours, and social areas.
When it comes to dining, you don't have to step outside to eat, as you'll have a choice of seven of the most exclusive restaurants and lounges indoors. Whatever entices you, there are lots of local attractions close to W Doha Hotel & Residences. These include shopping malls, museums, or the palm-tree lined Corniche where you can find a string of restaurants and cafés to enjoy.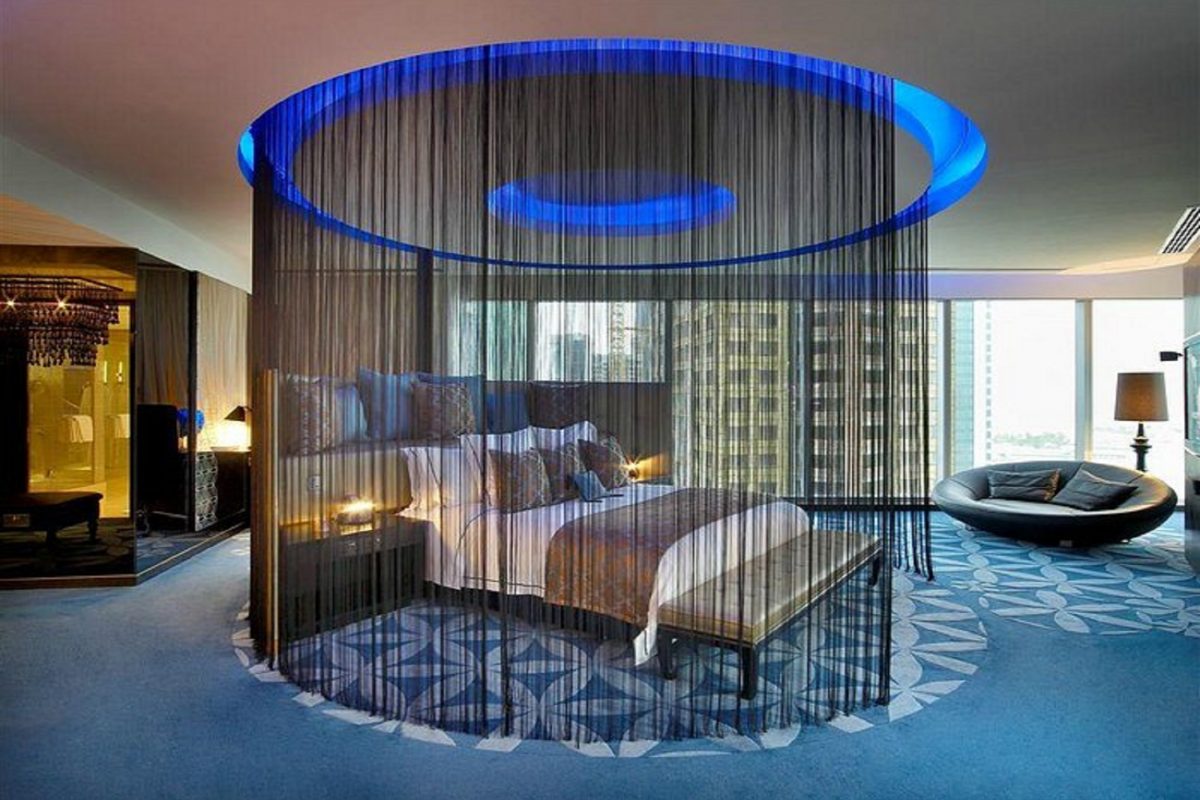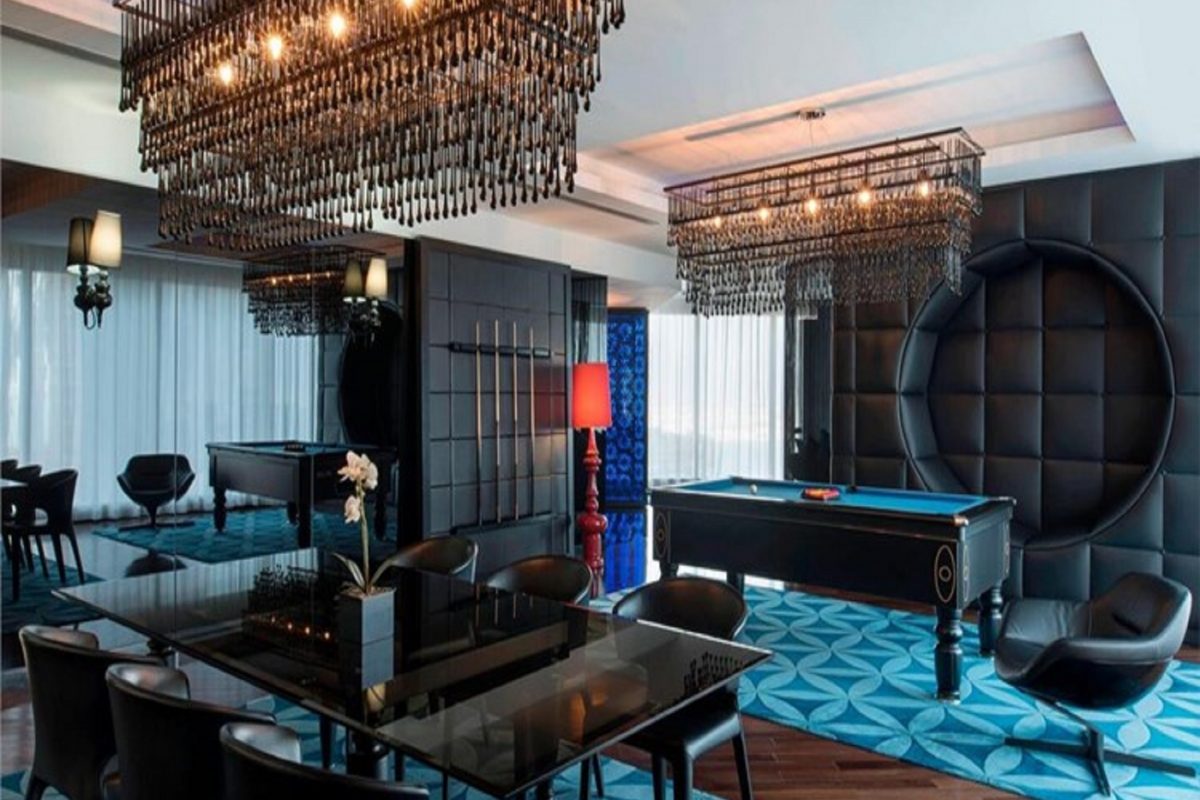 Especially the Extreme WOW Suite and W Suite, offer the most outstanding experience at W Doha! The Extreme WOW Suite offers fabulous soirées, state-of-the-art technology and fantastic in-room entertainment amid a sophisticated décor adorned with stylish furnishings. All you need to bring is yourself. You can also bliss out in the privacy and comfort of your very own massage room with an expert masseuse from the spa and any of your favourite treatments.
And not offering less, is the W Suite! The one-bedroom W Suite is the luxuriously spacious loft you've always dreamed of inhabiting. The expansive living room is bathed in natural sunshine from soaring floor-to-ceiling windows, which allow panoramic views of West Bay. Enjoy the sophisticated, modern design of the stylish interior from the oh-so-fun hanging swing chair.
W Doha is definitely one of the top luxury hotels in Doha and we would not be surprised if in the world!
Finally, dessert is an exciting study of Eastern and Western flavors, with selections such as pecan pie or lychee and pine nut foie gras. So, these are some things that you must not skip when dining at this top Asian New York restaurant.
Banana Island Resort Doha by Anantara
If you want a Maldivian holiday in Doha, Banana Island Resort Doha by Anantara offers exactly that! Banana Island Resort Doha by Anantara is a crescent of golden beach and over water villas just off the coast of downtown Doha. A luxury yacht ferry crosses crystal clear water to reach a breath-taking island that feels the world away. Banana Island Resort offers a paradise sanctuary of world-class facilities and limitless activities, both above and below the water, providing relaxation and adventure, wellness, and pure indulgence. It is not a coincidence we saved Banana Island Resort for last!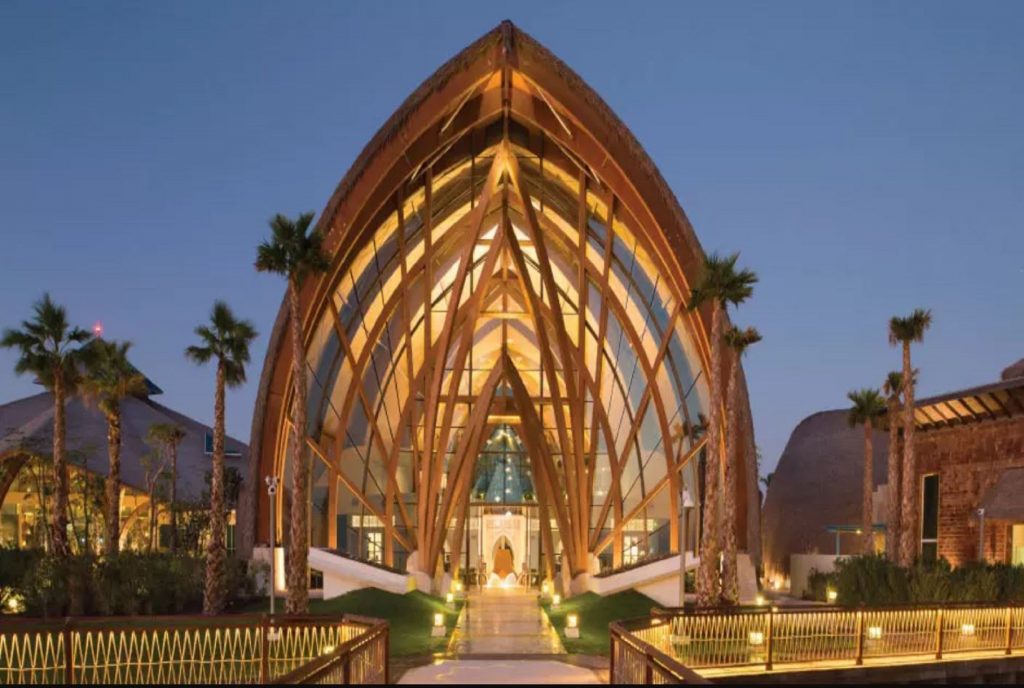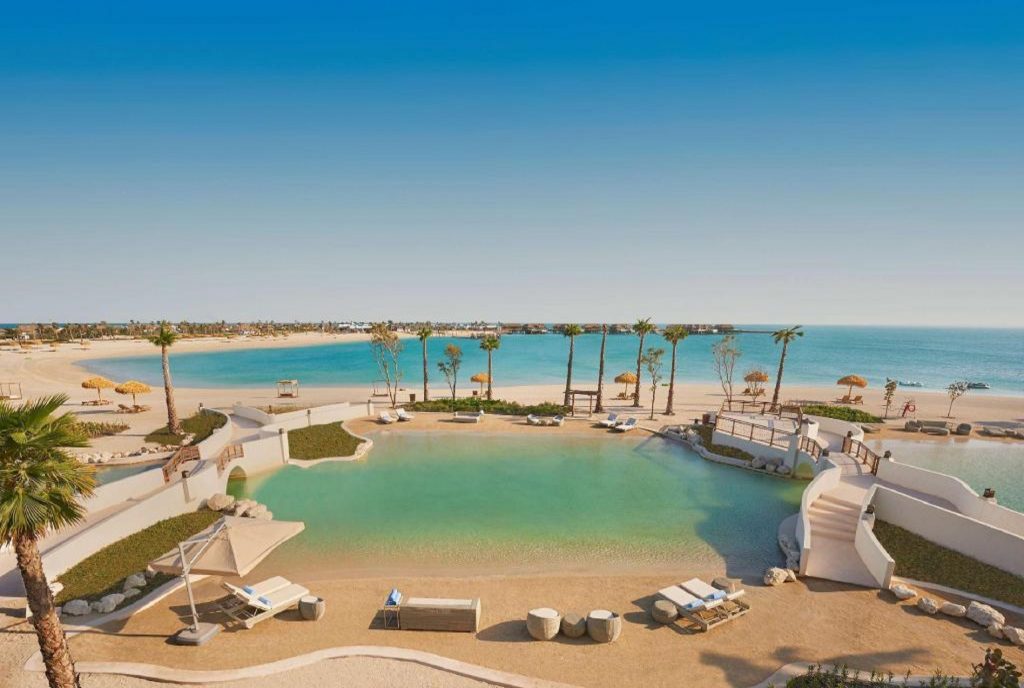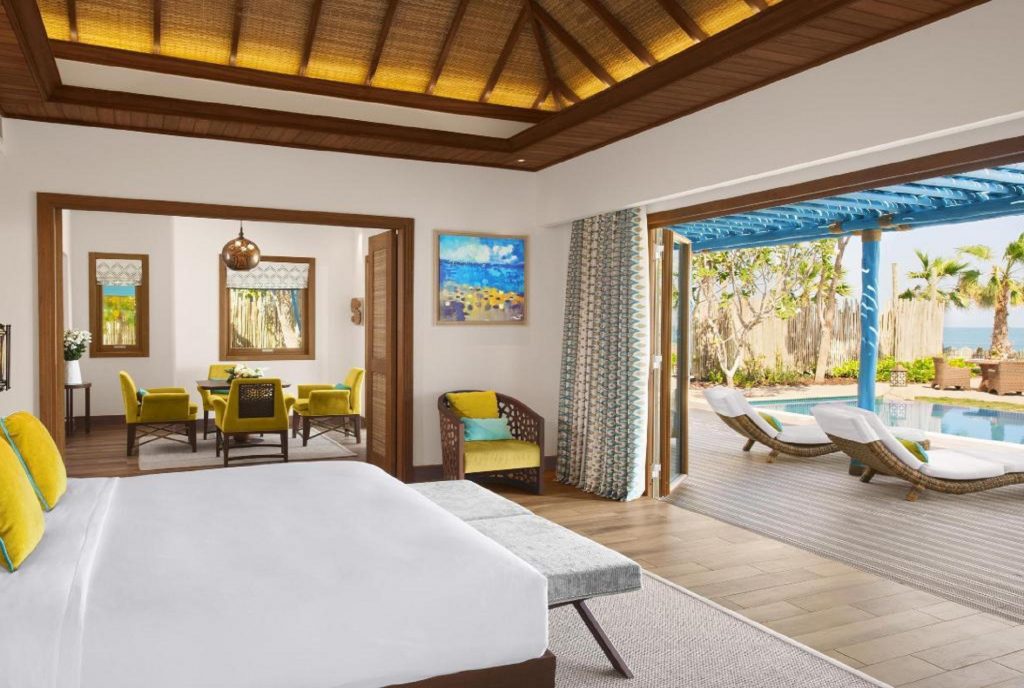 A range of settings across the island ensures your ideal getaway. You can stay close to the lagoon pool and all the action, or hide away in a beach villa, or even drift over the Gulf in an over water villa.
If you're going to one of the top luxury hotels in Doha, you need to look for the Five Bedroom Anantara Over Water Villa! The largest over water residence is the height of luxury perched over cerulean waters. Three king and two twin bedrooms offer quiet time with ocean and skyline views. Dine together indoors or out. Swim to water's edge in your infinity pool, the waves lapping below.
Can it get better than this? We doubt it…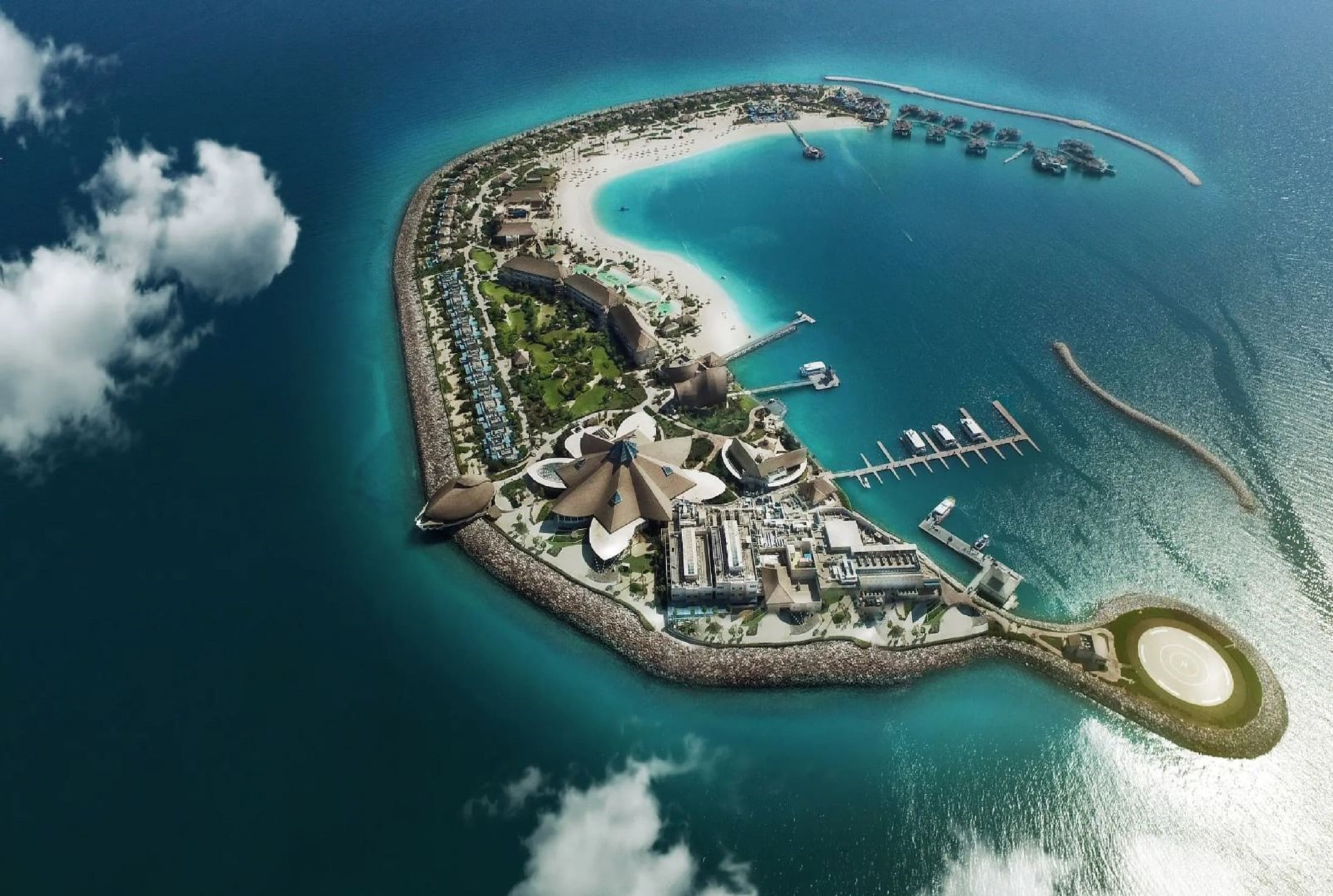 Booking Request for Doha Hotels
Submit your details below and the Splendid Concierge Team will be in touch.